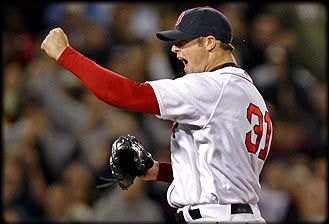 JON MOTHERFUCKING LESTER
9.0 IP, 2 BB, 9 K, 0 R, 0 H
OMFG.
No words. Just, none. I am so so proud of this kid it is ridiculous. To go from battling cancer in 2006 to winning the clinching game of the World Series in 2007, to tonight, throwing the first no-hitter by a lefthanded pitcher at Fenway Park since Mel Parnell in 1956... I just can't even say anything. Except that: HI I BELIEVE I TOLD EVERYONE THAT LESTER > SANTANA. KTHX.
Also amazing: Jason Varitek is the first catcher EVER to catch four no-hitters (Nomo in 2001, Lowe in 2002, Buchholz last year, and tonight). Wow. That's crazy.
OH AND. I was talking to

phantom_hpuff
on the phone during the game and when we hung up? The time of the call was exactly 31:00. ♥ IT'S A SIGN. Ahah.
Tito is the cutest. Seriously. You could just tell that he was about to cry. Lester's said before that Tito has been like a second dad to him, but for him say "I feel like my son graduated and pitched a no-hitter." Just... so much love. ♥ ♥
Okay, I seriously... can't type anymore. I'm shaking. Plus Lester's going to be on BBTN soon.